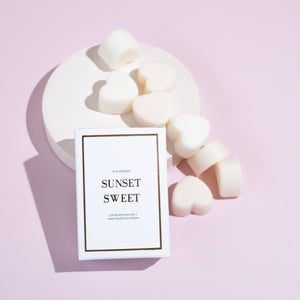 Regular price
$12.88
Sale price
$10.95
Get it between
Dec 12
-
Dec 19
Guaranteed safe & secure checkout
The Wax Melt version of our much loved scent 'Sunset Sweet'.
A delicate, dusky, and dreamy candle that incites the sentiment of warm sunsets, simple pleasures, and the sweet ease of stillness. Infused with soft florals such as Ylang-ylang, Jasmine and Sweet apples gently blended with undertones of Wild Honeysuckle. This candle kindles the simplicity within happiness, evening blues and a heart of pink skies worth savouring.
Enjoy the bliss of a warm sunset packaged in beautifully scented wax melts.
Each packet contains 10 wax hearts, providing you with over 70 hours of burn time. We recommend you burn one cube at a time, simply place the cube onto your burner to enjoy hours of our amazing aromas.
Similar products
Customers who viewed this item also viewed
The best candles I've ever had; they smell so good and strong, and they last so long. I've left mine burning for hours upon hours and it's still not even nearly finished. Defo repurchasing!

Nana
Left my bachelor pad feeling fresh after ordering their melanin dream candle !!

Michael
Their candles are lovely, and were so well packaged when they came. The scents are gorgeous and feel so luxe. I love the fact that they are made in the UK and owned by black women. So happy to support!

Ida